Current News
There are 118 News Items in 17 page(s) and you are on page number 10
Click here for "Editorial Comment"

ID cards seen as 'a slippery slope' - Wednesday, October 08, 2003
ID cards seen as 'a slippery slope'; National plan would be expensive, ineffective, report warns Commons committee to offer long list of privacy concerns (full story)
Crime lab's sad state a crime: former manager - Wednesday, October 08, 2003
Cutbacks, poor working conditions and a lack of staff have combined to create a critical situation at the RCMP's forensic services, including the lab in Regina, warns a former senior lab manager. (full story)
PCs have mad money to burn - Monday, October 06, 2003
Once again all of Ralph Klein's worries are little ones. Or so he hopes. The premier came out of the weekly Tory caucus meeting yesterday with a big smile on his face. (full story)
PC support is falling - Friday, September 12, 2003
Back in March, when Premier Ralph Klein appeared to be feeling a little uneasy about his party's status among right-thinking Albertans, he issued a three-point plan to hopefully get a little respect from Ottawa. (full story)
Disclaimer: The opinions and arguments of the documents posted on this News Web Site are not necessarily the opinion of the Separation Party of Alberta and are posted for information purposes only.
---
Why Separation | Building the Party | Administration |
Upcoming Meetings | Brochure | News | Editorial Comment | Links
Contacts | Quotes | Home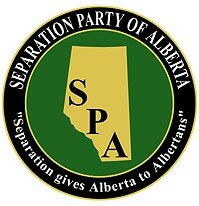 Separation Alberta
Box 31074
Edmonton, AB T5Z 3P3