Current News
There are 114 News Items in 17 page(s) and you are on page number 13
Click here for "Editorial Comment"

Separation a tough sell - Wednesday, July 23, 2003
Party founder Bruce Hutton, a former Mountie and gun registry opponent now living in Rocky Mountain House, is confident the group will attain party status. In fact, he's so confident he is already bragging the party will win 11 seats in the legislature in the next provincial election and will be running the province by 2010. (full story)
ID card poll is skewed, Liberal says - Thursday, July 17, 2003
A controversial Canadian government poll that shows widespread support for a national ID card with biometrics is skewed in favour of the initiative and should be disregarded by Immigration Minister Denis Coderre, say members of a House of Commons committee. (full story)
Martin's leadership war chest overflowing - Monday, July 14, 2003
Ottawa — Paul Martin cranked up his shock-and-awe fundraising assault on fellow Liberal leadership candidates Friday while cash-starved rival John Manley was forced to cut staff. (full story)
Ralph Klein's parochial mind at work - Friday, July 11, 2003
CHARLOTTETOWN -- The provincial and territorial premiers have endorsed Jean Charest's proposal to create a new Council of the Federation, which is a fine idea that would strengthen the country. (full story)
Disclaimer: The opinions and arguments of the documents posted on this News Web Site are not necessarily the opinion of the Separation Party of Alberta and are posted for information purposes only.
---
Why Separation | Building the Party | Administration |
Upcoming Meetings | Brochure | News | Editorial Comment | Links
Contacts | Quotes | Home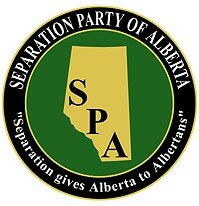 Separation Alberta
Box 31074
Edmonton, AB T5Z 3P3