Current News
There are 114 News Items in 17 page(s) and you are on page number 3
Click here for "Editorial Comment"

Official Party Status - Friday, June 11, 2004
Months of hard work and patience have paid off for independence-minded Albertans. The Separation Party of Alberta (SPA), a movement whose mission is to ensure the future of Alberta for Albertans by becoming an independent nation separate from Canada, has gained official party status in Alberta. (full story)
Liberals eye June 28 election date - Thursday, May 06, 2004
OTTAWA (CP) - Canadians will head into a federal election campaign two weeks from now when Prime Minister Paul Martin pulls the trigger on a June 28 vote, several Liberal insiders said Wednesday. (full story)
Separation Alberta's only hope - Monday, May 03, 2004
Clark should take back comments, Klein says: 'We now have a unified Conservative movement in Canada and it's time to get behind the leader' (full story)
Reserving judgment: Prime Minister Paul Martin... - Friday, April 23, 2004
The most entrenched of those old ideas is the Indian reserve. A think-tank report, "Apartheid -- Canada's Ugly Secret," was released just prior to this week's aboriginal summit in Ottawa. Its recommendation that Canada scrap the reserve system should not be dismissed out of hand by either the government or aboriginal leaders. (full story)
Disclaimer: The opinions and arguments of the documents posted on this News Web Site are not necessarily the opinion of the Separation Party of Alberta and are posted for information purposes only.
---
Why Separation | Building the Party | Administration |
Upcoming Meetings | Brochure | News | Editorial Comment | Links
Contacts | Quotes | Home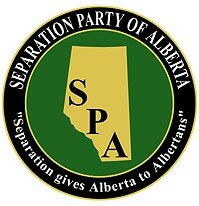 Separation Alberta
Box 31074
Edmonton, AB T5Z 3P3