Current News
There are 114 News Items in 17 page(s) and you are on page number 7
Click here for "Editorial Comment"

Martin health plan gets 48% support - Wednesday, February 11, 2004
OTTAWA Prime Minister Paul Martin kicks off his first legislative session today with a Speech from the Throne that will emphasize domestic policies such as a health care -- a key concern of Canadians who are expressing tepid support for the Liberal government's reform plans. The speech, to set the tone for Mr. Martin's administration as Parliament sits for the first time since he was chosen Liberal Leader and new Prime Minister in November, comes as a new poll suggests only half of Canadians support his plans for health care. (full story)
Martin trying to duck issues - Saturday, January 31, 2004
It would seem that in running a shipping company for a couple of decades Prime Minister Paul Martin has learned a thing or two about the importance of clearing the decks before sailing into stormy seas. (full story)
HANCOCK UNDER FIRE OVER GUN REGISTRY - Friday, November 28, 2003
Dave Hancock is a smarty-pants Red Tory lawyer from southwest Edmonton who, ironically, has been leading the charge to head off the intriguing firewall concept. (full story)
WE NEED LEADERS WHO HAVE THE GUTS TO FIGHT CRIME - Thursday, November 27, 2003
And by "shrugs" I mean the lack of emphasis on fighting violent crime by Toronto's NDP mayor-elect David Miller, new Ontario Liberal premier Dalton McGuinty, and incoming Liberal prime minister Paul Martin. (full story)
Disclaimer: The opinions and arguments of the documents posted on this News Web Site are not necessarily the opinion of the Separation Party of Alberta and are posted for information purposes only.
---
Why Separation | Building the Party | Administration |
Upcoming Meetings | Brochure | News | Editorial Comment | Links
Contacts | Quotes | Home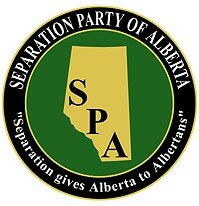 Separation Alberta
Box 31074
Edmonton, AB T5Z 3P3