Current News
There are 114 News Items in 17 page(s) and you are on page number 4
Click here for "Editorial Comment"

PRESS RELEASE - Saturday, April 03, 2004
Separation Party of Alberta offers it's support to the Western Independence Party of Saskatchewan. (full story)
Panicked PM vows changes - Tuesday, March 30, 2004
And it was the first time I saw panic in the eyes of a man some used to consider the backbone of the Chretien government. (full story)
Farmers protest 'attack of bureaucrats' - Friday, March 26, 2004
Hundreds of tractor-trailers, flatbeds and pickup trucks lined Highway 29 yesterday between Arnprior and Pakenham, as almost 500 farmers and their families protested "the harassment" they feel from all levels of government. (full story)
Disclaimer: The opinions and arguments of the documents posted on this News Web Site are not necessarily the opinion of the Separation Party of Alberta and are posted for information purposes only.
---
Why Separation | Building the Party | Administration |
Upcoming Meetings | Brochure | News | Editorial Comment | Links
Contacts | Quotes | Home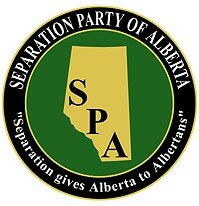 Separation Alberta
Box 31074
Edmonton, AB T5Z 3P3