Current News
There are 114 News Items in 17 page(s) and you are on page number 16
Click here for "Editorial Comment"

Alberta should emulate B.C. on insurance - Thursday, June 19, 2003
There comes a time when you have to call a bluff. That's what the Alberta government should make clear it's prepared to do with the insurance companies that have been whining about their tough times of late, resulting in unfairly high hikes in automobile insurance costs. (full story)
Fundamental change is the only solution - Tuesday, June 17, 2003
Where is provincial discontent highest? If you answered Alberta, home of a growing number of provincial-rights movements, you would be wrong. In fact, residents of three provinces, Newfoundland, Saskatchewan and B.C., report feeling more aggrieved than Albertans. (full story)
Why Ottawa refuses to relinquish control... - Tuesday, June 17, 2003
At first glance, a column about the Canadian Wheat Board (CWB) monopoly tucked into a publication that is entirely devoted to the subject of a refederated Canada may seem odd. It isnít. The Canadian Wheat Board monopoly is an extension of federal power. Like the National Energy Program, Kyoto protocol and the new rifle registration, its life source is Ottawa. (full story)
Disclaimer: The opinions and arguments of the documents posted on this News Web Site are not necessarily the opinion of the Separation Party of Alberta and are posted for information purposes only.
---
Why Separation | Building the Party | Administration |
Upcoming Meetings | Brochure | News | Editorial Comment | Links
Contacts | Quotes | Home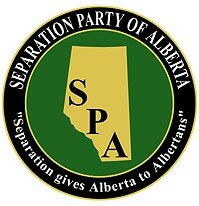 Separation Alberta
Box 31074
Edmonton, AB T5Z 3P3