Current News
There are 114 News Items in 17 page(s) and you are on page number 15
Click here for "Editorial Comment"

Almost all top bureaucrats got bonuses - Monday, July 07, 2003
OTTAWA - Nearly all senior federal bureaucrats pocketed performance bonuses last year worth $39-million despite the spate of scandals, controversies and management blunders dogging the government. (full story)
Alberta gets a bum deal - Tuesday, July 01, 2003
A girlfriend of mine who recently moved back to Ontario after living in Alberta for seven years says she is amazed by the hostility many "easterners" have against Albertans. (full story)
Separation will mean less government - Thursday, June 26, 2003
The scope and reach of government regulations is staggering. Almost every aspect of our daily lives -- from the type of threads permitted in seatbelts (and the number required per square centimetre) to the television channels we may watch to the size of holes in baby bottle nipples -- is governed by a federal or provincial regulation. Ottawa alone adds approximately 1,200 new regulations annually, running to more than 5,000 pages, and almost none are ever brought before the House of Commons for review by Canadians' democratically elected representatives. (full story)
More Bureacratic mismanagement - Thursday, June 26, 2003
Gary Webster, chief executive officer of the Canadian Firearms Centre until last February, commuted to Ottawa three weeks each month in 10 of the 19 months he held the position, according to documents obtained by the Canadian Alliance under the Access to Information Act. (full story)
Canadian Alliance Bill Given Royal Assent - Wednesday, June 25, 2003
June 20, 2003, Ottawa - Gurmant Grewal, MP for Surrey Central and Co-chair of the Joint Standing Committee for the Scrutiny of Regulations, was pleased to see the first Canadian Alliance private members bill passed and given Royal Assent last night in the Senate. Sponsored by Mr. Grewal, Bill C-205 now gives Parliamentarians the ability to review and revoke all federal regulations. (full story)
Knock first, with caution - Wednesday, June 25, 2003
Police investigating marijuana grow operations never know what they're going to find when they go into the building. That's why, for four years, Vancouver police would kick down doors and go in with drawn guns, rather than knock politely. (full story)
Alberta Advantage? No way - Wednesday, June 25, 2003
Alberta Premier Ralph Klein is in Washington and New York this week to promote his province's virtues in a competitive world. "In New York, I'll be selling the Alberta Advantage to financial leaders who want to hear about our robust economy and opportunities for investments," he says. What does this have to do with Alberta's conspicuous opposition to gay marriage? (full story)
Disclaimer: The opinions and arguments of the documents posted on this News Web Site are not necessarily the opinion of the Separation Party of Alberta and are posted for information purposes only.
---
Why Separation | Building the Party | Administration |
Upcoming Meetings | Brochure | News | Editorial Comment | Links
Contacts | Quotes | Home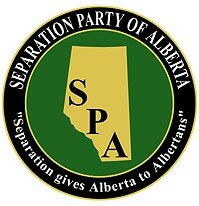 Separation Alberta
Box 31074
Edmonton, AB T5Z 3P3