Current News
There are 114 News Items in 17 page(s) and you are on page number 2
Click here for "Editorial Comment"

Separate lives - Wednesday, July 07, 2004
"Klein was a card-carrying Liberal at one time," he re-minds last night's assembled. (full story)
Harper calls Grit tactics 'anti-Western' - Thursday, June 17, 2004
MONTREAL (CP) - Paul Martin risks a flare-up of Western anger by warning that a Conservative government would let Alberta undermine medicare, says Tory Leader Stephen Harper. (full story)
Ex-aide to Mar got deals - Tuesday, June 15, 2004
EDMONTON -- A public relations firm owned by a former executive assistant to Health Minister Gary Mar was awarded more than $250,000 in contracts in the two years since the pair parted ways, documents show. Liberal leader Kevin Taft raised the issue yesterday after the government released the 2002-03 public accounts. (full story)
Klein pondering fall vote in Alberta - Sunday, June 13, 2004
EDMONTON - Alberta Premier Ralph Klein is seriously considering calling a fall election. "I've got the burning in my belly and we want to get it done," he said. (full story)
Dangerous Jack - Saturday, June 12, 2004
Federal NDP Leader Jack Layton looks like little more than an afterthought in the federal election. (full story)
Disclaimer: The opinions and arguments of the documents posted on this News Web Site are not necessarily the opinion of the Separation Party of Alberta and are posted for information purposes only.
---
Why Separation | Building the Party | Administration |
Upcoming Meetings | Brochure | News | Editorial Comment | Links
Contacts | Quotes | Home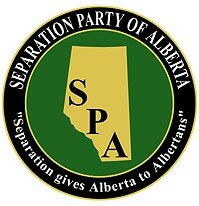 Separation Alberta
Box 31074
Edmonton, AB T5Z 3P3