Current News
There are 114 News Items in 17 page(s) and you are on page number 6
Click here for "Editorial Comment"

Liberals get jitters - Thursday, March 04, 2004
OTTAWA -- Ontario Liberal MPs and senators expressed fears during a heated closed-door caucus meeting last week that they will lose their seats over the sponsorship scandal if a spring election is called. These remarks were inadvertently broadcast live on Feb. 25 over the parliamentary television network and an audiotape of that Ontario caucus meeting has been obtained by Sun Media. (full story)
Poll: Some in Sask. ready to join U.S. - Tuesday, March 02, 2004
"On the whole, Western disaffection is a real issue which is somewhat inflamed, particularly in Alberta and Saskatchewan," says an analysis accompanying the poll. (full story)
INDEPTH: SPONSORSHIP SCANDAL - Sunday, February 15, 2004
Oct. 30, 1995: The Quebec referendum ends with the No side winning by a narrow margin. Shortly after, the federal government begins a pro-federalism advertising campaign to boost its profile in the province. Groupaction Marketing Inc. is one of the advertising agencies chosen for the contracts. (full story)
'Angry all over again' - Wednesday, February 11, 2004
'Angry all over again': An issue worth going to polls on: It's not sufficient to blame Gagliano, call an inquiry (full story)
Where the money went - Wednesday, February 11, 2004
The RCMP used $107,268 in sponsorship funds to buy six horses and two trailers. And more than $150,000 was used to hire two co-ordinators for the force's 125th anniversary and $82,436 in extra cash went toward "departmental expenditures" in Quebec. "We find this an inappropriate use of sponsorship money," the report concluded. (full story)
Disclaimer: The opinions and arguments of the documents posted on this News Web Site are not necessarily the opinion of the Separation Party of Alberta and are posted for information purposes only.
---
Why Separation | Building the Party | Administration |
Upcoming Meetings | Brochure | News | Editorial Comment | Links
Contacts | Quotes | Home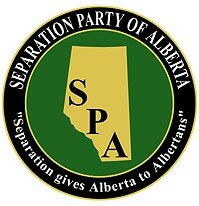 Separation Alberta
Box 31074
Edmonton, AB T5Z 3P3