Current News
There are 114 News Items in 17 page(s) and you are on page number 1
Click here for "Editorial Comment"

Albertans must prepare for the storm - Monday, October 04, 2004
"Any candidate threatening a separation referendum could appear from nowhere, win the leadership and put himself at the head of the provincial government." (full story)
Globe and Mail online Poll - Wednesday, September 29, 2004
Question: Should the federal government introduce a short-term 'windfall tax' that redistributes some of Alberta's oil wealth to provinces in need?
(full story)
Separatists attack Canmore Administration - Thursday, September 23, 2004
Red Deer, Alberta: September 22, 2004, Separatists attack Canmore Administration. The Separation Party of Alberta (SPA) has registered a formal complaint with the Alberta Human Rights and Citizenship Commission against the Town of Canmore for refusing to rent the Civic Centre to SPA. (full story)
Calgary Tory MLA charged - Thursday, July 22, 2004
CALGARY (CP) - A Conservative member of the Alberta legislature was charged Wednesday with providing a false statement for the purpose of procuring a passport. (full story)
Disclaimer: The opinions and arguments of the documents posted on this News Web Site are not necessarily the opinion of the Separation Party of Alberta and are posted for information purposes only.
---
Why Separation | Building the Party | Administration |
Upcoming Meetings | Brochure | News | Editorial Comment | Links
Contacts | Quotes | Home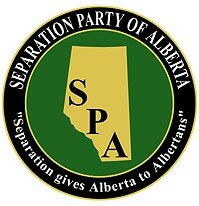 Separation Alberta
Box 31074
Edmonton, AB T5Z 3P3