Current News
There are 114 News Items in 17 page(s) and you are on page number 5
Click here for "Editorial Comment"

Scandal tied to PMO - Tuesday, March 16, 2004
Scandal tied to PMO; Chrétien's aide made calls: Insider Politicians deny applying pressure (full story)
Taxes - who pays in Canada - Tuesday, March 16, 2004
Sometimes politicians can exclaim; "It's just a tax cut for the rich!", and it is just accepted to be fact. But what does that really mean? Just in case you are not completely clear on this issue, we hope the following will help. (full story)
NEWS RELEASE - Tuesday, March 16, 2004
Oscar Lacombe - Honoured on Monday, sentenced on Wednesday (full story)
NEW SASK. PARTY EYES INDEPENDENCE - Monday, March 15, 2004
A fledgling Saskatchewan political party formalized its policies at its founding convention yesterday, voting to oppose same-sex marriages and to end tax exemptions for First Nations people. (full story)
Disclaimer: The opinions and arguments of the documents posted on this News Web Site are not necessarily the opinion of the Separation Party of Alberta and are posted for information purposes only.
---
Why Separation | Building the Party | Administration |
Upcoming Meetings | Brochure | News | Editorial Comment | Links
Contacts | Quotes | Home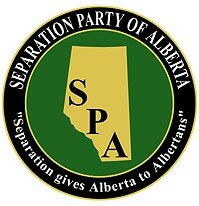 Separation Alberta
Box 31074
Edmonton, AB T5Z 3P3