Current News
There are 114 News Items in 17 page(s) and you are on page number 14
Click here for "Editorial Comment"

Charest calling the council's tunes - Friday, July 11, 2003
CHARLOTTETOWN -- One of the Prince Edward Island papers - putting the great nation-building premiers conference in its proper perspective - ran a story about a raccoon yesterday. (full story)
Premiers meeting all huff, puff and bluff - Friday, July 11, 2003
CHARLOTTETOWN -- Sometime in the middle of the night HMCS Halifax pulled up to the federal government wharf. Jean Chretien needn't have bothered. Anchoring a gunboat in the harbour - symbolic or otherwise - was clearly overkill on the part of the Ottawa Liberal government. (full story)
PM accepts Klein's modest Senate reform - Friday, July 11, 2003
OTTAWA - Prime Minister Jean Chretien is expected to unveil a plan to modestly reform the Senate at next month's Liberal caucus retreat by announcing he will accept lists of potential senators from the provinces to fill future Senate vacancies, says Maclean's magazine. (full story)
Splitsville soiree - Wednesday, July 09, 2003
We'll find out this Friday whether you can fit all the separatists in Alberta into a phone booth. (full story)
WESTERN INDEPENDENCE MEETING UPDATE - Monday, July 07, 2003
Western Canada is long overdue for a meeting of this magnitude. Various leaders and their membership will be coming together for one evening to discuss and strategize freedom and liberation for all. (full story)
Disclaimer: The opinions and arguments of the documents posted on this News Web Site are not necessarily the opinion of the Separation Party of Alberta and are posted for information purposes only.
---
Why Separation | Building the Party | Administration |
Upcoming Meetings | Brochure | News | Editorial Comment | Links
Contacts | Quotes | Home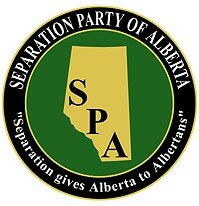 Separation Alberta
Box 31074
Edmonton, AB T5Z 3P3