Current News
There are 119 News Items in 17 page(s) and you are on page number 1
Click here for "Editorial Comment"

Alberta Separatists Announce Policy Meeting - Wednesday, March 02, 2005
Red Deer, Ab: February 14, 2004 - The Separation Party of Alberta will be holding a Policy Meeting in conjunction with a Leadership Convention Planning Meeting at the Glendale Room of the North Hill Inn, Red Deer, Alberta commencing at 9:00 a.m. on March 19, 2005. The meeting is open to members only, however, memberships will be available before the meeting. (full story)
Separation Party of Alberta says, "Thank You" - Saturday, November 27, 2004
I would like to take this opportunity to express my congratulations and gratitude to all the candidates for their efforts in the provincial election. I would also like to thank the constituency associations for their work. The volunteers commitment to the cause of SPA is also greatly appreciated. (full story)
Albertans must prepare for the storm - Monday, October 04, 2004
"Any candidate threatening a separation referendum could appear from nowhere, win the leadership and put himself at the head of the provincial government." (full story)
Disclaimer: The opinions and arguments of the documents posted on this News Web Site are not necessarily the opinion of the Separation Party of Alberta and are posted for information purposes only.
---
Why Separation | Building the Party | Administration |
Upcoming Meetings | Brochure | News | Editorial Comment | Links
Contacts | Quotes | Home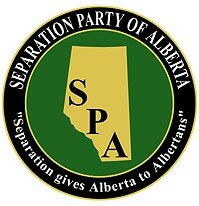 Separation Alberta
Box 31074
Edmonton, AB T5Z 3P3